Cutting, styling and trimming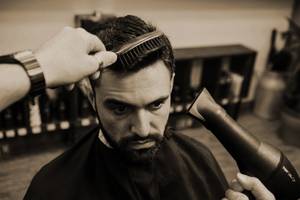 To achieve the perfect cut, many different techniques and hairdressing tools are used, such as razors, traditional scissors and electric clippers. I also use the brush cut technique, or "bressant" technique as it is more commonly known.
Once your cut has been perfected, you benefit from a shampoo wash in order to promote comfort and to release any stray hairs that may otherwise cause irritation.
Your haircut is finished off with styling using the American Crew range of products.
Adding the final touches, eyebrows are trimmed, as well as the nose and ear areas, if so desired.